PRACTICE PLANNING AND GAME PLANNING
Walsh was a planning mastermind. He planned his training camps down to the minute. Each year Walsh would revise and refine the schedule with his assistants to fit the needs of his teams. Walsh had four basic strategies of team development:

1. The teaching of individual fundamentals and skills.
2. The choreographing of actions of groups, such as defensive backs or offensive linemen.
3. The development of TEAM EXECUTION, such as the offensive unit.
4. The implementation of SITUATIONAL FOOTBALL, as related to the specific game circumstances.
For example, the 49ers practice goal line offense, short yardage, 2 minute offense, etc. The players learned to appreciate this regime because they could be confident that what they learned on the practice field, they could apply in a game. Every logical situation that might occur in a game was isolated and the strategy and tactics were accordingly devised. These situations were given practice priorities with a specified number of minutes.

It's vitally important that players take the field to learn something each session rather than have only their courage tested. This approach should be reflective all the way down to the YOUTH football level ( Pop Warner ). There are only so many times when a coach should test a players courage or willingness to totally sacrifice. The player should be taking the field to learn, and usually to practice something specific that has been discussed beforehand.

There are at least 4 major benefits from precisely scheduling training camp and practices during the regular season:

1. NO wasted time on the practice field.
2. The learning process is accelerated.

· Players could view the practice schedule the night before, so they knew those areas that would be emphasized. Each category was specifically reviewed. When you take the field you want the best possible learning environment.

3. The game can be approached on a broad base, rather than piecemeal.

· Every phase of football is worked concurrently. All facets are emphasized.

4. Initially, the Head Coach can coach the coaches.

· Teach the coaches how to instruct the skills and fundamentals to the players.
There is NOT a reason a coach can't become more effective each year, if he can retain enthusiasm for his work!!

Teams which attempt to adopt the 'West Coast Offense' and duplicate its success solely by copying the play schematics and blocking schemes are taking a fragmented approach to installing such a system. In order to fully understand the West Coast Offense, a number of factors concerning the parameters of the system must be considered, including:

1. The type of offense needed.
2. The amount of offense required.
3. The requirements for installing and implementing this system.
4. The practical application of the West Coast Offense on gameday.
What to address against a particular opponent:

· Who will be the key personnel at the point of attack?
· When is the best time to run a particular play or play sequence?
· Where on the field will a particular play or play sequence have the best chance for success?
· Why will a particular play or play sequence be productive versus this particular opponent or specific defense?
· How often may a particular play or play sequence be repeated with relative assurance of its success and how should it be adjusted if it is to be repeated?
· How do the environmental conditions affect the potential quality of the play?
A TEAM MUST KNOW WHAT TO DO IN ANY GIVEN SITUATION.
IDENTIFYING AND IMPLEMENTING ESSENTIAL SKILLS
A critical part of the game planning process is to identify the skills each player needs to perform the tasks involved in a particular play. After identifying the skills needed by the player, a team must have a process in place for ensuring that their players develop these skills so that each play is productive. Taking steps to develop these skills in every player occurs in two stages: isolating the skills and teaching the skills.
1. Isolate the skills. The first step in the game planning process should be to analyze the tasks involved in the assignment of each player. Next, a decision must be made regarding whether or not the players have the ability to master the necessary skills. If it is determined that the ability of the players does not mesh with the skills required for a specific task, then this part of the offensive game plan must be discarded or altered to fit the level of talent. The more specific a players preparation for a particular game, the better their performance.

2. Teach the skills. Collectively, teaching players the skills they need involves an evolutional process of promoting, enhancing, practicing and refining each facet of the capacity being developed. In this regard, the rudimentary teaching progression of " Hear it - See it - Do it " is applicable as it ever was.
Success on the field does not occur by accident. Simply put, PREPARATION PRECEDES PERFORMANCE. The most brilliantly designed scheme and game plan is virtually worthless unless a well orchestrated method is presenting, installing and practicing that scheme and plan exists.

GAME PLANNING
One of the most difficult tasks as a head coach is making judgments and decisions under severely stressful situations. The better prepared the head coach is, the more capable he will be of acting under pressure.
Because preparation is based on probability rather than certainty, as head coach, you must account for every situation and contingency that can reasonably be anticipated. Anticipating the factors which may cause you to experience severe stress during a game can be helpful in several ways, including:
· Reduces the likelihood that you will have to do too much guessing under the stress of the game.
· Enhances your ability to make adjustments during the game.
· Provides players with a preview of what to expect in critical situations.
· Takes tremendous pressure off the signal caller.
· Gives confidence to the players and the staff in knowing that you are prepared in all possible circumstances.
· Allows you to believe and stay with your game plan.
Practicing for every reasonable situation and contingency means that you are upholding your primary responsibility to the team - REDUCING THE LEVEL OF UNCERTAINLY BY THOROUGHLY PREPARING THE TEAM.

Situational Offense

The term situational offense refers to the specific situations which have to be addressed, in varying degrees, during a game. Each of these involves very specific conditions (e.g. down, distance, field position, etc.) At least 9 different categories of situational offense exist:

1. Normal down and distance in the open field.
· This situation offers the head coach the most latitude to establish his preferred style and tempo of play. 50% of the offensive play calls during a game will occur within the parameters of normal down and distance in the open field. On first and second down, the normal down and distance situation in the open field should be attacked with three main objectives in mind:

A. get a first down or a series of first downs.

B. position the offense in a favorable third down situation.

C. score or run an explosive play.
Getting a first down on first and second down is a hallmark of a good offense. On 1st and 10 the offense should be focused on positioning themselves in a favorable ( convertible ) down and distance situation.

Stats demonstrate that ONLY 25-35% of 1ST downs are generated on 3RD down conversions. The remaining 65-75% of 1ST downs are generated on 1ST and 2ND down. THEREFORE, a team's 3RD down conversion ratio is typically NOT a primary factor in winning games. To ensure a favorable 3RD down situation, your play selection should emphasize calls with a high probability of at least 4+ yards on both 1ST and 2ND down.

A teams third objective in normal down and distance in the open field should be to strike with an explosive play ( i.e. a play which results in a gain of 20 yards or more ). 1ST and 2ND down are normally the best downs for calling for an explosive play because of the multiple concerns that the defense must prepare for on these downs.
2. Backed-up.
· Teams in the NFL are not backed up on their goal line as much as high school or college teams are. Regardless of the level, you must have an adequate backed up package prepared. The goal of this situation is obvious: Get a first down. The plays you should choose when backed up should be base calls which the offense will be very familiar with and have confidence in. Keep in mind that this situation can turn into a real positive for your offense. It can stun a defense when they let the offense out of this situation. Among the priorities you should consider when backed-up are:

A. Moving the ball at least to the 5 yard line.
B. Selecting core plays which are low risk.
C. Limit ball handling to key players to reduce chance of fumbling.
D. Consider using a double tight end formation to cut off defensive penetration.
E. Selecting pass plays to emphasize ball control.
F. Selecting ball control passes which are thrown to the outside.
G. Consider throwing the ball deep to change the momentum and keep your defense off the field.
H. Throwing passes only to the strong hand side of the QB.
I. Avoiding plays which both guards pull.
J. Attacking the defense between the ends.
K. Deciding if taking a safety is an acceptable option.
3. Third down.
· 3RD down is one of the less complicated situations to prepare for because most defenses have specific tendencies with regard to this situation.
· The percentage of successful 3RD down conversions increases as the distance to convert decreases:

3RD and Long (7+ yds) = 20-25%
3RD and Medium (2-6 yds) = 45-50%
3RD and Short (1 yd or less) = 75-85%


· These percentages underline the importance of maintaining a 1ST/ 2ND down 4+ yard efficiency that enhances your chances of keeping your 3RD down calls in at least the 50% region.
4. Forth down.
· The average NFL team rarely attempts to convert on a 4TH down situation, but it is imperative that a team prepares for it. A team should plan for three distant types of 4TH down situations:

4TH and inches
4TH and short
4TH and long

· Several factors should be considered when deciding whether or not a team should attempt 4TH down conversion. For example, the caliber of the opponent, if you are playing home or away and the defensive style of your opponent.
5. Red Zone.
· Along with 3RD down, the Red Zone is clearly the most critical situation the offense will be in during the course of the game.
· One can carry approximately 10 plays ( 5 runs and 5 passes) for 1ST and 2ND down in the Red Zone. One can carry 2 plays for 3RD and Long and 3RD and Medium. The 3RD and 1 play can carry over from the open field category of your game plan.
· When establishing priorities of your Red Zone package, the following steps should be considered:

A. Run the ball if possible.
B. Use motion to isolate the desired match - ups.
C. Run plays that are designed to beat the blitz and man to man coverage.
D. Pass the ball to the underneath routes.
E. Run plays that do not risk losing yardage, the offense should not be taken out of field goal range.
F. Group your plays in ten yard divisions ( i.e. 20 yard line, 10 yard line ). Defenses tend to base Red Zone strategy according to the location of the ball with regard to ten yard divisions. Keep in mind that the Red Zone is an excellent area of the field to run different plays from formations that were previously shown in the open field.
G. Anticipate the blitz. Run a package to take advantage of the blitz when your team is somewhere between the 15- and 25- yard lines. Throw the ball in the end zone. Use Motion to isolate the desired matchup on your best receiver.
H. Select running plays, because the defense tends to stay in a base front when the offense is positioned between the 10- and 15- yard lines. Alert the QB to audible if the defense jumps into a goal line front.
6. First and Goal.
· Stats show that a team will have two 1ST and goal opportunities in a game. A 1ST and goal package should have 2-3 running plays and 1-2 passing plays from that formation.
· Consider throwing the ball in this situation, particularly in awkward situations ( i.e. 1ST and goal from the 9 yard line ). Since virtually every pass thrown to the goal line involves a throw into the end zone, the QB must be very focused on what he expects to see before he throws the ball.
· Be careful not to turn the ball over in 1ST and goal situations, it can be very demoralizing to your team.
7. Goal Line.
· This offensive package concerns situations where the offense is within the 3 yards of its opponents goal line. The average team may see this situations 3 times in a game.
· Run running plays in only 1 direction, either to the right or left. This will eliminate some of the guess work that may occur during the pressure situations of a game and will help focus a teams weekly preparation.
· Because it is extremely difficult to run the ball at times in this situation, a team should plan to have passes as 50% of its goal line offense.
· A team should plan and prepare for what play it will call ( run or pass ) when it only needs to gain inches.
8. 2 Point Play.
· Most NFL teams average only one or two 2 point conversion attempts a year. It may be sensible to combine the 2 point play package with the 3RD down inside the opponent's 10 yard line package. Combining these two elements into a three to four play package can encompass 1ST and Goal calls and 2 Point conversion plays.
9. Blitz.
· Most teams carry one or two blitz beaters in their game plan. Blitz beaters are specific plays and protections that can be called or audibled to in order to take advantage of a defensive blitz.
· One of the best ways to hurt a defense that is blitzing is to use the 'HOT' option off a basic pass play. The 'HOT' option involves a situation where the QB has the choice of dropping the ball off to a designated receiver for which the defense cannot account when blitzing.
· Develop a viable offensive package to counter the blitz that is more a part of your base offense. If the offense would practice this more on a regular basis, the team's chance of success to beat the blitz would increases substantially.
· Treat a blitzing defense as an opportunity rather than a foreboding event. This situation is an excellent chance for a big gain.
Contingency Offense
The contingency component of a team's offense is designed to deal with those situations which are TIME related. Contingency offensive situations may not even arise in a game. There are 2 basic contingency offensive situations: Four Minute and Two Minute offense.
1. Four Minute offense.
· The primary goal of the four minute offense is to take as much time off the clock as possible, while enabling a team to protect its lead. The four minute offense involves 4 objectives:

A. Moving the ball on the ground.
B. Making first downs.
C. Keeping the clock running.
D. Protecting the football.

· Considerations when building a four minute offensive package include:
· Using tight formations.
· Using a consistent short snap count to avoid illegal procedure.
· Using basic timing patterns in must pass situations.
· Using play passes.
· Avoid reverses.
· Avoid special and untested plays.
· Remind players to keep a slow pace.
· Avoid unnecessary shuffling of personnel into the game.
· Alerting punter to punt ball as high as possible and informing the punt team to cover but not down the ball outside of the red zone.
· Alerting the punt returner to either fair catch or avoid the ball.
· deciding to take a safety if appropriate when punting from a backed up situation.
· Being prepared to attack goal line defense as the clock winds down.
· Knowing when to call the 'Victory' formation and have the QB down the ball.

1. Two Minute offense.
· The two minute offense is designed to enable a team to accomplish specific objectives within the limited amount of time available, usually to score points to tie or win the game.
· Among the steps a head coach should take with regard to the two minute offense are the following:

· Be aware of the two minute warning, if possible, let the clock run down to the warning.
· Plan plays which may be used for conditions that may develop.
· Gather the offense on the sideline whenever possible; keep everyone else away from the area.
· Make a decision to return a punt or to fair catch before the return team takes the field.
· Keep messengers ready to run messages into the game.
· Be sure that your key personnel are on the field.
· Have the ball snapped on set, unless otherwise indicated in the huddle.
· Have plays called at the line of scrimmage in order to increase the pressure on the defense.
· Call a rushing play that is designed for a second down situation against a nickel package.
· Avoid calling special plays or new plays.
· Alert the field goal team to be ready if called upon.
Reactive Offense
Defenses often develop plans to counter a team's offensive tendencies. Accordingly, a team should include plays in its offensive attack that offset its own tendencies or to take advantage of a defense's probable predisposition to act a certain way in particular situation.
Collectively, these special plays are commonly referred as a team's ' reactive offense '. As the head coach, you should ensure that your team is properly prepared to react in all conventional reactive situations including:
1. A first down call after getting a first down rushing.
2. A first down call after getting a first down passing.
3. A first down call after the completion of an explosive pass.
4. A first down call after an explosive run.
5. A first down call after a positive penalty ( i.e. 1ST and 5 ).
6. A second down call after a sack.
7. The next first down call to start a series after your team lost the ball on a fumble or interception.
8. A first down call to start a series after your opponent's loss of possession due to a turn over.
Establishing Openers ( or Scripting )
An integral part of many team's offensive game plan is to script 'OPENERS'. Openers are a prepared list of plays ( i.e. 10 - 15 plays ) that a team plans to use to start ( open ) the game.
Players tend to like the use of openers because the procedure enables them to know ahead of time what they will be doing on their first one or two series. Scripting openers offers several advantages, including:
1. Allows the head coach to make decisions in a detached and thoughtful manner.
2. Allows the head coach to determine an appropriate balance between running plays and passing plays on first down.
3. Allows the head coach to be more creative in his team's personnel groupings early in the game by having the offensive sequence planned ahead of time.
4. Enables the head coach to be able to quickly determine how the defense will react to specific formations and personnel groupings.
5. Allows the head coach to give his assistant coaches an opportunity to check for defensive factors which might affect the effectiveness of a particular play or offensive sequence.
6. Allows the players especially the quarterback, to get into an appropriate rhythm.
7. Allows the head coach to script specific 'Special' plays and increases the likelihood that they will actually be employed in the game.
8. Multiplies the confidence of a team when a scripted sequence results in a score.
9. Increases the versatility of the offense without having to run a large or unmanageable number of plays or having to use and excessive number of formations.
Coach Billick has stated, "60 minutes is not enough time for the best team to always win - it is just long enough for the team that plays best to win." This underlines the physical parameters of time and preparation that may offset physical limitations.

You must ask yourself the question, How much offense should I have? You should consider three levels:
1. Yearly
2. Weekly
3. Game Day
The more you overlap the amount of total offense you can carry vs. the amount that can be effectively practiced, the more effective the offense you can actually run on game day.

Of course, it is impossible to predict the exact amount of offense you will use in any given game. You must carry a selective amount of overage that has to be built in for 'what if's'. You should try to keep your overage to about 25-30% of the total snaps that you can predict.

From your base offense in the open field package, you can build (script) your openers. The key elements in establishing your base offense are:

Table 1 reflects a 6 year breakdown of the Minnesota Vikings in the OPEN FIELD. 1ST down in the open field requires about 45% of your total calls. 2ND down requires 35%, and 3RD and 4TH downs take up the remaining 20%.

Table 1 also reflects that the 1ST down in the open field package will consist of about 20-25 calls a game. 2ND and Long (7+ yds) in the open field constitutes about 11-12 calls a game. And 2ND and Medium (2-6 yds) in the open field has only about 5-6 calls per game. 2ND and 1 in the open field usually only comes up once a game. Third down in the open field occurs about 10 times a game.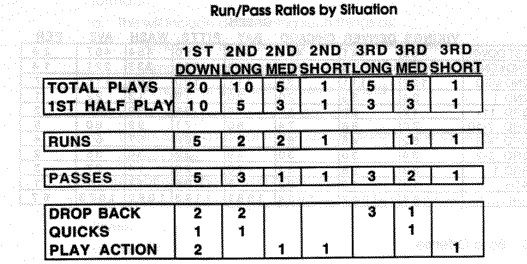 TABLE 2

You will notice that we have identified very specific parameters in Table 1 and we have isolated how much offense is required in each situational offensive category. Now we can think in terms of focusing our needs by run/pass ratio.

Table 2 diagrams a run/pass ratio by situation. For example, we know we face about 20 1ST downs in the OPEN FIELD in a whole game. We can cut that number in half to start with 10 opening, 1ST down open field, first half calls.


Table 2 shows a team who likes a 50/50 run/pass ratio on 1ST down. With this in mind, you should break your 1ST down OPENERS into 5 runs and 5 passes.

Table 2 also demonstrates a team who likes a 30/70 run/pass ratio on 2ND and Long. With this in mind, you should script 5 plays of the first half with 3 passes and 2 runs.

Table 2 also shows a team that would like to keep a 2/1 run/pass ratio on 2ND and Medium, so we script 3 plays for the first half: 2 runs and 1 pass.

This team has decided that we want our opening passes to be 2 dropbacks, 1 quick, and 2 play actions. As we carry this thinking out over all the OPEN FIELD situations, we end up with our total opening play ratio:
· Runs: 12
· Passes: 16

· Dropback: 8
· Quicks: 3
· Play action: 5
As an example of our opening 12 runs, two of them will be short yardage situations and may in fact be the same play. Likewise, the run we have scheduled for 3RD and Long may be the same run we intended for 3RD and Medium. That being the case, you are left with 10 opening runs.

Those 10 runs do not have to be 10 different plays. They are more likely to be 3 or 4 different runs out of 2 or 3 formations.

It would stand to reason that we would want to build the 5 play action passes off those runs and formations.

Of the 3 quicks we choose to throw, we may want to link them to 2 of the formations from which we are throwing our 8 dropback passes, or 1 or 2 of the run formations, and so on...

How much carryover you wish to have from your 1ST down and 2ND down plays to your 3RD down calls is certainly up to you. You may want to draw from your base passes and just simply change the formations, or you may want to have a complete new set of plays.

Once you have established the priority of your opening plays, you can expand on that package to the point of even doubling those initial 30 plays to have a base OPEN FIELD package of 60 plays, with your average 50 open field calls coming from that package. This certainly fits within the limits of about 20% overage in your preparation.


This same approach can be applied to your RED ZONE package where the 25% of your remaining plays will be called. Examine Table 3. This area has the same predictable parameters as does its open field counterparts. So you can see how you can determine your Red Zone package and so on...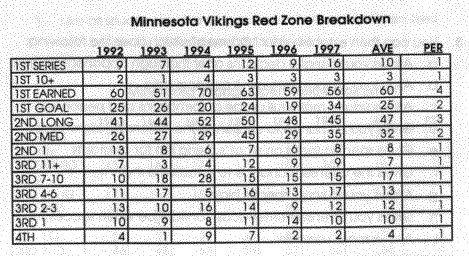 TABLE 3
Installing the Offense:
Table 4 summarizes the amount of offense we have determined we need by situation.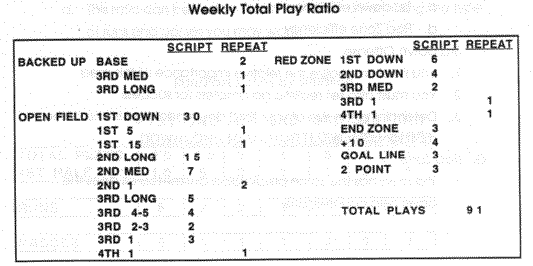 TABLE 4
The column labeled SCRIPT represents the upper limit of plays needed for a particular situation, keeping our 25 - 30% overage factor in mind. The column labeled REPEAT represents plays that will come from other parts of the game plan. As such, these plays don't necessarily have to be separately scripted plays. You MUST, however, MAKE SURE THAT THESE SITUATIONS ARE COVERED and everyone is aware of what is going to be run.
We are by NO means suggesting you have to have 90 different play combinations. Much of what you will call will be repeated or changed subtly by formation and/or personnel. These 91 Total Plays fall within the 20 - 30% overage outlined earlier.
As large as this number may seem, many teams will unknowingly carry a much higher percentage of overage, thus making the practice ratio of game plan to actual plays called even higher.
The size and complexity of any game plan and the way you install it is NOT the issue. What IS at issue is if you as a coach have taken the time to be as detailed and specific in your game plan preparation as is needed to give your players the best chance to succeed.
Warren Moon stated in Brian Billick's , Developing an Offensive Game Plan, "The more detailed and specific a game plan can be laid out for a player, the more he can perform with confidence and efficiency." This long discussion of game planning and preparation and teaching is truly the heart and soul of Bill Walsh's 'WEST COAST OFFENSE'.
For more information concerning the West Coast Offense, please refer to the Reference page.